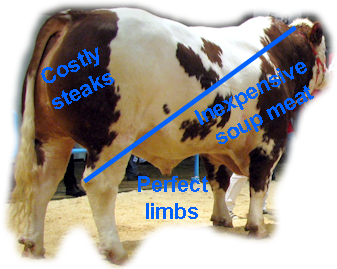 Here are our Simmental breeding goals
Musculature is given pride of place
At Sneumgard Pedigree Simmental we are aiming for medium to large frames of the breeding stock . Absolutely top priority, however, are muscles, length and width as well as distinctly good hindquarters. The butcher pay more for 2 inch extra body length than 2 inch extra long legs! And then there is the important point for long animals – a long calf is born easier than a short calf – when they weigh the same at birth. The fact that the animals should obtain a large daily gain goes with out saying, as it always does for simmentals. The hallmark of a good animal from Sneumgaard Pedigree Simmental is, that if you draw a straight line from the neck to the hock, then it should be obvious to the naked eye, that the most and the best meat should be placed above the line.
Maternal traits, docility and longevity
Our animals always show a very high degree of docility. Only animals with a high degree of docility are allowed to proceed for breeding. As selected for that, only cows with the best maternal traits go further in breeding. Over the years, easy calvings characterized Sneumgaard Pedigree Simmentals animals. With regard to calving ease we have through the course of time been extremely picky. We always consistently go for, that heifers give birth to a live calf, so a new generation of cows get easy started. As a consequence of our breeding goals, it is not unusual to find long-living cows with 8- 10 births behind them.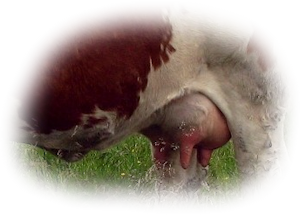 Performance characteristics top priority!
A large part of Sneumgaards pasture fields consist of meadow land in northernmost part of the Wadden Sea National Park. Caused the fields with shallow depth and marshlands, it is an absolute must that animal movement, limbs and hooves are always of the best quality. The bones should therefore not be coarse and inflexible – this also facilitates easy calvings. Udders are on the one hand, supposed to be good and functional, with small teats – easily accessible to the calves, but on the other hand, not collect dirt and soil to itself when the cows walk in the often hardly passable marshes. Attention is continuously targeting the cows with a high milk yield, so the calves get a high weaning weight. In order to maintain this, we time to time import alien genetics from the two-purpose-populations in Germany and Austria.

Diversity and variation – also with regard to yellow, red and white
As one of the world's most widespread cattle breeds simmentals are known for diversity and variation. This results in an unimaginable amount of combinations in breeding, as Sneumgaard Pedigree Simmental also frequently use of the top genetics from all corners of the world. To the breed's characteristics belongs color variation. The basic color is white with patches of pale yellow of deep yellow to red and deep, dark reddish. The markings may appear throughout the whole spectrum from predominantly full body coverage to mottled, spotted and speckled or spotted. At Sneumgaard Pedigree Simmental all color combinations are not only accepted, but appriciated and regarded as equal. However, we firmly follow the internationally recognized line with white head light muzzle, light belly and white tail tip, and white feet. "Goggle-eys" and eye pigmentation often occurs.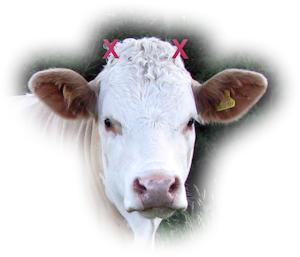 From horned to polled Simmentals
At the founding of Sneumgaard Pedigree Simmental all animals were horned. Today almost all animals are polled, a big part even homozygous polled. Polled trait is preferable to horned ditto, due to animal welfare and economy. But horned heifers are sometimes included in the herd – if the quality of the animal is the best of a year! Horned bulls are only used to introduce new blood lines – or to achieve and maintain other parts of the breeding goal – but rarely as its difficult to sell bulls which are not homozygous polled. The marked also have its say!