Simmental semen approved for use worldwide. Danish top bull. Highly rated on linear score. Delivery via Viking Genetics. Semen aviable from 2021.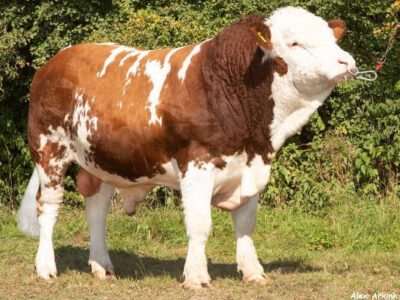 During first half of 2021 we expect to have simmental semen avaible from a bull we sold to the German AI-station Göpel Genetik, who are specialised in polled genetics. Sneumgaard Powerbull P (See pedigree here), is a maternal half-brother to Sneumgaard Imperator PP. His dam, Sneumgaard Christiane P has, with linear score of 93 points, for several years been one of Denmark's very highest linear score rated cows. Powerbulls maternal grandsire Sneumgaard Adrian P was already 13-month-old named reserve champion at the National Show in 2006.
Powerbull is interresting since, via his sire, he has genes from the old East Germany Flechvieh gene-reserve, which was secured from West Germany during early stages of the Cold War.
Below on the page you can subscribe to the list of people, who, as the first ones, will get an priceoffer by email as soon as delivery is possible. We will only offer a limited number of amps, so they will be sold on a first-come, first-served basis! Click on picture for full picture/pedigree.
His birthweight was 54 kg, 200 days 441 kg. Sold before 365 weight. Below form to indicate interest.
[contact-form-7 404 "Not Found"]
The simmental semen is produced by Göpel Genetik in Germany