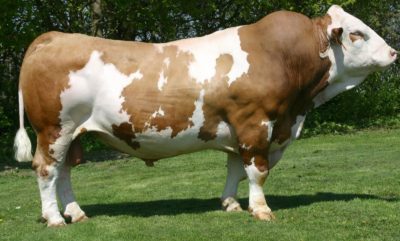 Progeny after Rosenherz PP born in our herd.
For us, Rosenherz PP appeared at just the right time. A decade ago we planned to improve milk yield and limbs, without loosing the muscles that other bulls had contributed with to our herd. It succeeded to a great extent with Rosenherz PP.
We have and have had some very high-ranking cows by him, most of them valued in category "Excellent" on the linear score. As expected, we got some cows, which provide a lot of milk, and thus the calves ensure a large daily growth from the very beginning. And udders are exceptionally fine, so the calves always start feeding themselves on their own.
They can to a high degree turn grass into meat on the calves! The results from the linear score show that we have maintained the good muscles – while achieving extraordinary good limbs and udders – which is important for longevity. Although Rosenherz PP is a German dual-purpose Fleckvieh, he also proved to add a large framework to the herd. Even when they milk a lot, they are able to keep the weight up – it tells about a good feed turnover. We can therefore only highly recommend Rosenherz PP!
Sire:
Rosenberg Pp (Ger)
PGS:
Romel (Ger)
PGSS:
Romen (Ger)
PGSD:
Walenda (Ger)
PGD:
Honik (Ger)
PGDS:
Balist (Ger)

PGDD:
Honi (Ger)
Dam:
Rena (Ger)
MGS:
Eisenherz PP (Ger)

MGSS:
Eckholm PP (Ger)
MGSD:


371

DE 09 18628311

(Ger)
MGD:
Renia (Ger)
MGDS:
Balist (Ger)

MGDD:
xxxx (Ger)